Feel..
As a society ~ do we even know how to feel anymore..
"To calmly lecture the police, and gently hold your truths, I am so impressed. This is the way to change the world." 
Moving video capture by @oracogan_photo
Words spoken by @kaleycro 
In support of the last BC Old Growth Forests @fairycreekblockade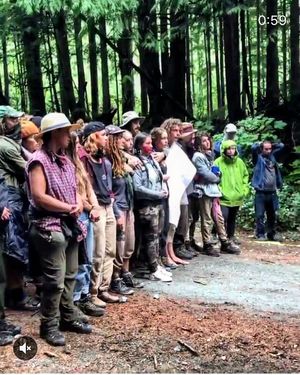 YOUR children, MY children, here seen standing up for what's left of the future OUR generations have failed miserably to protect. It must be frightening for them to confront 'the system' boasting uniform and force. 
Please give what you can and make phone calls to those responsible for this terrifying situation:
https://fundrazr.com/last_stand_for_forests?ref=ab_3ljwXVZ19AI3ljwXVZ19AI
*
Today's Soulful Song for you:
Ain't Got No, I Got Life ~ by the incomparable Nina Simone
https://www.youtube.com/watch?v=L5jI9I03q8E
Ain't Got No, I Got Life
Ain't got no home, ain't got no shoes 
Ain't got no money, ain't got no class 
Ain't got no skirts, ain't got no sweaters 
Ain't got no faith, ain't got no beard 
Ain't got no mind 
Ain't got no mother, ain't got no culture 
Ain't got no friends, ain't got no schooling 
Ain't got no love, ain't got no name 
Ain't got no ticket, ain't got no token 
Ain't got no God 
What have I got? 
Why am I alive anyway? 
Yeah, what have I got? 
Nobody can take away 
I got my hair, I got my head 
I got my brains, I got my ears 
I got my eyes, I got my nose 
I got my mouth, I got my smile 
I got my tongue, I got my chin 
I got my neck, I got my boobs 
I got my heart, I got my soul 
I got my back, I got my sex 
I got my arms, I got my hands 
I got my fingers, got my legs 
I got my feet, I got my toes 
I got my liver, got my blood 
I've got life, I've got my freedom 
I've got the life 
I got a headache, and toothache 
And bad times too like you 
I got my hair, I got my head 
I got my brains, I got my ears 
I got my eyes, I got my nose 
I got my mouth, I got my smile 
I got my tongue, I got my chin 
I got my neck, I got my boobies 
I got my heart, I got my soul 
I got my back, I got my sex 
I got my arms, I got my hands 
I got my fingers, got my legs 
I got my feet, I got my toes 
I got my liver, got my blood 
I've got life, I've got my freedom 
I've got life, I'm gonna keep it 
I've got life, I'm gonna keep it
*
Yoga with Adriene ~ Feel
https://www.youtube.com/watch?v=_O0z9EBEO6g
*
Namaste
Britta
solit_moons